HEALTHY * HAIR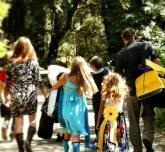 How did we even get here?! Why is hair washing so pervasively considered a bubbling fest of lather?
Who invented this hair stripping concoction and who was their marketing specialist?!
Hair care can be totally different than what we are use to. Clean, balanced, light reflective, healthy hair & scalp is more possible than many of us know. It takes a double take though - A pause in action, a desire for something more logical and effective.
Most of us believe that products sold in major stores are tested for safety, of course!  They are not.  It is possible and even likely that we are being doused with one of hundreds of readily used cancer-causing chemical ingredients every time we shower or shampoo. Being derived from a fruit or natural plant material is so so so not enough. For example: The chemical, cocamide diethanolamine (cocamide DEA), a chemically-modified form of coconut oil (used as a thickener or foaming agent in many products), was listed as a known carcinogen in 2012. And that is just one of hundreds.
 Healthy in The Park - offers you the best in eco awesome hair & scalp care for the whole family.